Tristral (Trist/an and Ast/ral) is the romantic relationship/pairing between Tristan and Astral.
Other Names
Relationship
To be in a relationship, there is to much secrecy from Astral. And being a fairy in the mortal/human world is not helping when it comes to her situation. However, they both seem to like each other a lot. Mostly Astral.
Moments
Season 1
Expiration Date: This was an episode focusing on the relationship between Tristan and Astral. Even though she almost manhandled Tristan (because of ankle and bird feces), they make sure that the date goes well.
Hidden in Plain Sight: This was an episode where Astral and Tristan had their first and only kiss.
Shippers
Trivia
Gallery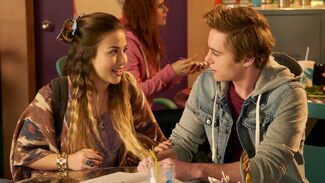 Here is the image gallery for Tristral. It may be viewed here.
Userboxes
This user ships
Tristral!