Let There Be Cake is the twelfth episode in Season 1 of The Other Kingdom. This episode aired on May 15th, 2016 and has 0.59 million viewers. 
Synopsis
Devon feels betrayed after learning about Astral's plan to help Athenia.
Plot
Devon feels betrayed when Astral makes the decision to stop his father continuing with his project to demolish Evergreen Woods, where the magical world of Athenia dwells.
He feels even angrier when Astral finally reveals to him that she is a fairy and princess of Athenia. Her mother appears before a shocked Devon to thank him in person for helping save their home world from annihilation. She makes him promise to protect Astral, as she knows that he has a good heart.
Trivia
Devon is the second mortal to discover Astral's true identity as a fairy and princess of a magical realm; the first being Morgan. Unlike Morgan, however, he does not take it well.
Gallery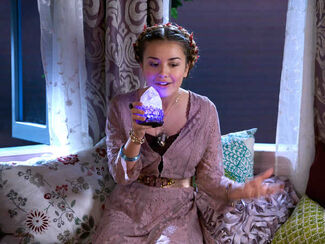 Here is the image gallery for Let There Be Cake. It may be viewed here.