Astroni (Astr/al and Brend/oni) is the cousin relationship/pairing between Astral and Brendoni.
Other Names
Relationship
They are cousins so there is no romatic relationship between them. They share a love/hate relationship and they are on and off at times.
Moments
What Fools These Mortals Be: The relationship between Astral and Brendoni first began in the first episode of the season. They first shared that they were cousins in this episode. They seem to have a good and healthy relationship.
When Astral needs help with something such as making a love potion, Brendoni helped her do it. 
Shippers
Trivia
Gallery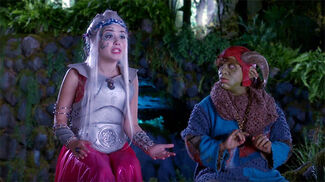 Here is the image gallery for Astroni. It may be viewed here.
Userboxes
This user ships
Astroni!